Welcome to arizonasnowbirdparks.com
*Our 14th Year* Promoting this Affordable and Healthy Lifestyle for Snowbirds
The focus of the site is on the life in the many retirement Resort Parks located in the southern U.S. States. We have begun with a concentration on the state of Arizona and specifically the Phoenix East Valley area, (Mesa, Apache Junction etc), Yuma, Tucson, and points in between.
In an attempt to bring people together with the information they seek, you will find several links out to snowbirdtrailer.com. There you will find information focused on park models and other units, parks, and rental and sales listings.
---
Advertise your unit For Sale or For Rent
Snowbirds are already shopping for this winter!
For More Information …
---
What is this Site all about?
We are focusing on providing useful information and links that will be of value for;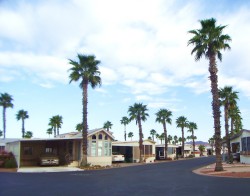 Just checking out the AZ winter experience for the first time - 'have never been'.
Already have visited and maybe spent some time in a park and now want to find a property in a resort community to rent or buy.
Owners who want to find information on upkeep, repair, and renovation.

Looking for a nice park
---
Check out our ' Featured Parks'

*** Click on the parks' ad/links on this page ***
FORTUNA DE ORO in YUMA has the distinction of being one of the few parks with its own golf course. The facilities are top notch and they have tons of activities to meet the needs of all residents.
RINCON COUNTRY TUCSON is an award winning park. Includes two parks ... Rincon Country East and Rincon Country West. The parks have been rated in the top 1% of all RV parks in the U.S and have received numerous awards by various park rating organizations.
DESERT SHADOWS in NORTH PHOENIX near SCOTTSDALE ... Perfect 10/10/10 Star Rating by Trailerlife, Woodalls & Good Sam. The park is located in close proximity to Scottsdale as well as the NW communities of Peoria, etc.
GOOD LIFE in MESA (East Valley)... is a top notch park with extensive ammenities. Go to their website and view the video of their activities and ammenities. It also gives special attention to pet lovers with facilities designed for those loved ones.
VAL VISTA in MESA (East Valley) ... a large park with its three unique 'villages' within one resort. It boasts dozens of ammenities and activities including dinner theatres and other entertainment. Check out the video on thier website.
SUNDANCE in YUMA is a top rated park that provides a wide range if facilities and activities including popular sports facilities and regular live music.
WESTWIND GOLF RESORT in YUMA is one of the top ranked parks in the country. Offers a wide range of amenities along with a golf course and variety of activities.
Take the time to 'Browse Around' the site.
If you are new at this experience make sure to take the time to read ... First Time Rentng or Buying in Resorts or RV Parks

Check out some of the parks websites on the Park Chart and pay special attention to their facilities and activities. It will help you get a sense of what it is like.
If you are looking for a park model to rent or buy make sure you are familiar with all the park model and RV park options. Check out some of the ad listing links at the top of this page.
This site is not affiliated with any park or any other organization. Any ads you see on the site are placed by and are the responsibility of the advertising business or individual. Park model ads are placed by the owners of the park model or their licensed representative. Any and all contact should be made directly with the advertiser.
Emphasis on New Prospective Park Residents
Of course those who are new at this will have the most questions. Much of our early emphasis on the site is for those who have never experienced time in the RV Resort Parks or maybe never experienced winter time in Arizona.
Part of the motivation for developing the site comes from the many requests we have received from back home ('up north') for information on this lifestyle experience.
We are providing information to help people get a sense of what this experience is all about. To answer many of those questions of 'how do we?' ... 'where do we?' ... 'what do we?' ... and the like. We are sure that those same questions are asked all over the northern United States and Canada.
300,000 Snowbirds in Arizona


160,000 RV Resort Park Model Residents
There are 100,000s of snowbirds who spend their winters in the southern U.S. They come from the northern United States and from all across Canada.
Unfortunately there are no recent studies done on this sector. The latest study done by the Arizona State University (ASU) on the snowbird market determined that (in 2003) there were 300,000 snowbirds who become semi-permanent residents in Arizona over the winter months. This figure does not include the more casual short-term winter vacationers who stay in hotels or travel through in RVs, 5th wheels or other means.
Snowbirds spending the winter in the south live in a wide variety of accommodations. Some use traveling RVs, some rent or buy condominiums, and some rent or buy a park model trailer in an RV Resort park. This latter group represents the largest proportion of snowbird residents.
In 2003 there were 160,000 snowbirds living in about 80,000 park model units. A large percentage are in the Phoenix AZ area. The highest concentration being the Phoenix East Valley region which includes the cities of Mesa and Apache Junction. This area has about 33,000 unit spaces, mostly located in the many RV resort parks. There are also a few thousand in Tucson and Yuma ... also very popular with snowbirds.
Whats in a Name?
Snowbird Parks - Retirement Parks - Seniors Parks - RV Parks - Trailer Parks Mobile Home Parks - Winter Trailer Resorts - RV Resort Parks - Park Models Mobile Homes - Trailers - RVs - Snowbirds - Retirees - Seniors - 55+ers - Baby Boomer Retirees
One (unexpected) challenge in developing this site was what to call it and how to describe our focus on park model living in Arizona resort parks. It is difficult to know what to call either the parks or the trailers. (Or even the residents) Some refer to the parks as Retirement Trailer Parks, or Seniors Parks, or Snowbird Mobile Home Parks or 55+ Trailer Parks. The formal name used by most of the parks is RV Resort Parks. But that does cause some confusion.
They certainly are a 'resort' but the reference to 'RV' suggests something quite different. To those 'up north', who are new at this, the term RV park conjures up more of a 'campground' for the traveling RVers. We have found people back home tend to ask about 'those retirement trailer parks in Arizona' or those 'senior mobile home parks' or those 'Arizona trailer parks' or any combination therof.
The parks being featured here are those parks that cater mostly to park model style trailers that are almost permanent. While most of these parks also offer short-term stays for RVs (i.e. motorhomes or other trailers) they are really quite different than those 'RV' parks dedicated to visitors mostly 'traveling through'. They should probably be called Park Model Resort Parks for Snowbirds or something similar.
Many of the parks actually started out by catering to the 'shorter stay' traveler. But what happened is that people began to stay longer and longer. It then became more reasonable to leave the trailer or RV at the park over the summer. But then there was little need to move the trailer or RV so a park model style trailer was designed and developed (actually more 'evolved') to be almost permanent but still remain a 'trailer'. But the parks continued to be known as 'RV' parks.